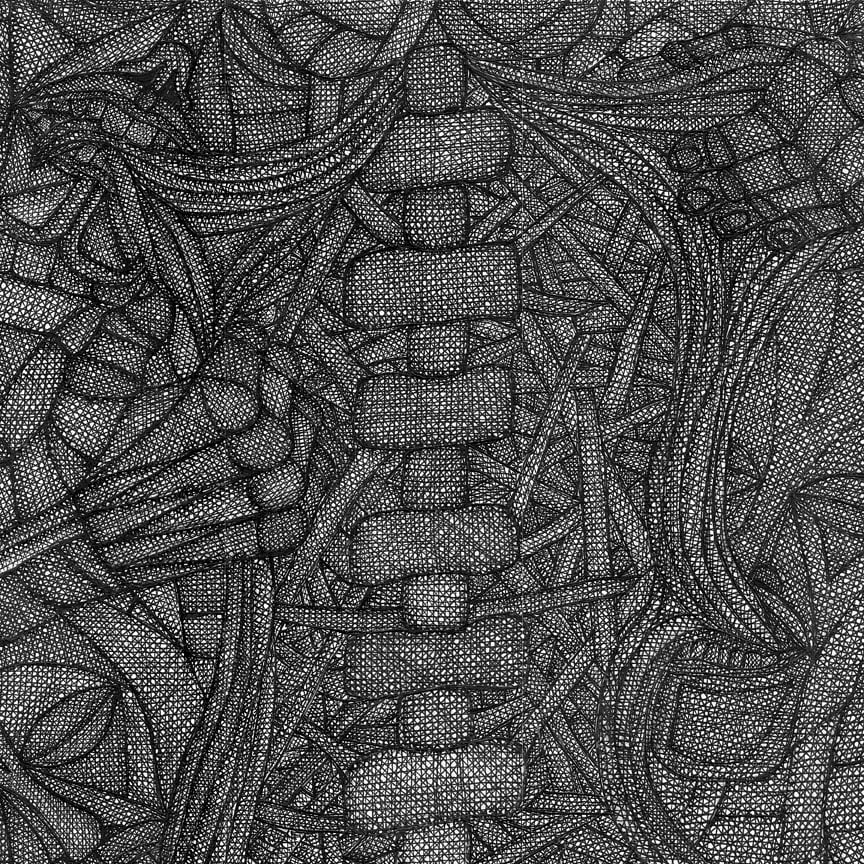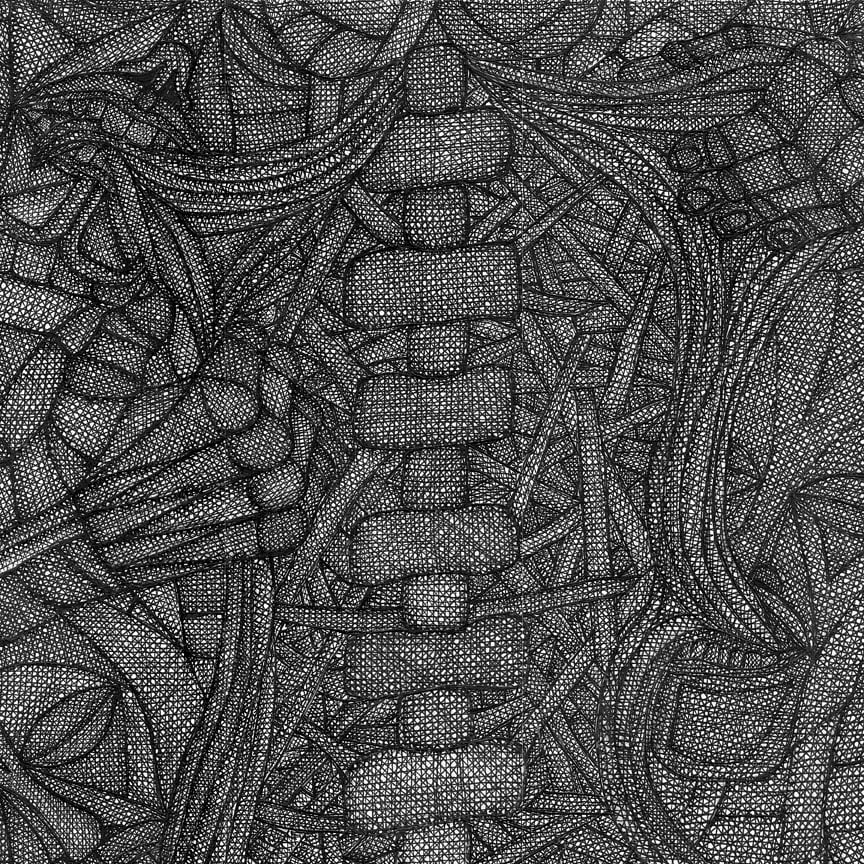 Fadensonnen "Badlands" LP (OH0002)
$20.00
Fadensonnen are a Brooklyn/Vermont duo consisting of PD and RD. They have a full-length and a few EPs to their name, all self released, and have played a couple gigs a year. But they've stayed under most radars 'cept for the more sophisticated ones. "Badlands" is their second full length, and their vinyl debut, and it strikes with the menace of IIIrd Gatekeeper-era Skullflower and the wasted sprawl of some of the PSF catalog's high moments. The guitars are feral and upfront, the rhythm section is a murky brew of rumbling and pounding that fights to be heard above the squeal. This is a massive blast of dark psych amp-destruction. Play these 3 tracks loud at 45 RPM. For fans of Skullflower, Urthona, Fushitsusha, Les Rallizes and Celan.
Edition of 150 copies. Hand-drawn and silk-screened jacket with art insert.
BLACK TO COMM REVIEW:
Outta (practically) nowhere and onto your turntable comes this dandy art/rock package from none other'n one of our favorite modern-day practitioners of the scronk form, Fadensonnen! If you're interested in something successful in the way of avant-energy musings that wasn't recorded forty-eight years ago this be thee reel deel, and as I've told you many a time these limited-edition releases (this one only 250 vinyl-wise via the can't -believe-they're-even-allowed-to-exist One Hand label) dwell into soundscapading areas that definitely would upset more'n a few prim and proper rock applecarts out there in prissyland. As usual, hearing this on vinyl comes off as such a delight with those warn drones sounding even warmer...if such a term can be applied to the total guitar distorto/electronic rock that Fadensonnen has been releasing for quite a few years now already.
One that might just snuggle into your album collection a lot more comfier than you think, if you slip it in between METAL MACHINE MUSIC and VINCEBUS ERUPTUM.
VOLCANIC TONGUE REVIEW:
Staggering psychedelic guitar excess in a gorgeous private press edition of only 150 hand-numbered copies from the same people who brought us last year's ass-flattening Dark Sunny Land LP: Fadensonnen – aka the Vermont-based duo of 'PD' and 'RD' on guitars, drums, 'machete harmonic', 'feral wah' and 'echo disaster leads' – take the raggedy black psychedelic blueprint of IIIRD Gatekeeper-era Skullflower and the UK experiments in American guitar blitz of Ascension, JfK et al and marry it to an all-in-the-red, soloing-all-the-time wipeout style that would build eternal plateaus of ecstasy sound ala Rallizes Denudes circa France Demo Tapes. The pair trill on grandstanding lead guitar histrionics before deforming the whole thing with nightmarish bottom-end bass dunts that could almost be Yasushi Ozawa and moments of pure, clear glissing space that push amplifier worship to the point of The Savage Resurrection play Hell Is Now Love. The insert pic featuring Lou Reed flipping the bird is just so much gravy and makes this a mandatory purchase for serious VT heads. Seriously; this is the best guitar-as-guitar side of the year that doesn't have some kind of relationship to Nick Mitchell or Heather Leigh, just wild six string excess at a newly deformed and bloody-minded apex of high. The packaging is stunning too, with a fold around b&w sleeve that comes with a thick hard card insert w/paste on photo and credits and a stickered bag. US guitar album of the year? Just ridiculously good, but at 150 copies you better make it quick! Very highly recommended.
Still Single review:
RECOMMENDED
Outstanding puncture wound guitar/drums-guitar/guitar duo, apparently of a busy nature with a bunch of self-released CD-Rs under their really-just-a-length-of-extension-cord belts, practicing the kind of high-velocity, pressurized instrumental torture that in this idea-soft yet hyper-aware era might make the weak of mind or hyphen-averse wither under the midday sun. Triangulated between Brooklyn, Vermont and Cambridge, UK, the three tracks here illustrate the sort of rock/noise-based improvisation that one always hopes to find under the layers of hyperbole coughed up by so-and-so's like myself just to get you outta bed and through the door these days. Everyone else (well, both of them) said Skullflower and Ascension, which makes sense, but goddamn, do these pieces sound driven, heavy and immense yet grounded to the poisoned soil of the outer boroughs, two of the tracks doing the deed (opening sprint "Machete" and explosive sidelonger "Take No Prisoners"), while another prepares the mixture (the thick, tumultuous droner "Blight Gospel"). We're in an era where this sort of exploration usually falls into one of three buckets: the one where sound takes the backseat to whatever transgressions the performers want to impart; the one where everything gets lost in some sort of mindless Hawkwind-style moron jam under the guise of "heavy psych"; and the truly progressive, new-language bent of a slim few (Dead C., Sightings, Oneida). Something like Fadensonnen is then far more preservationist than it is transformative, but all the same it's been far too long since this sort of action darkened my doorstep – all the danger and violence that accompanied these shapeless exercises of rage back in the '90s is dragged out of the canal to inspire your malevolence. Edition of 150 copies, handmade heavy card insert with wraparound black-and-white print indebted to Nick Blinko … for once, the cost seems to justify the effort put into making a record like this.